Here is the procedure to connect your Webgains' account to Winamaz.
Before starting this procedure,
make sure that your site is validated by Webgains and that one of the advertisers has accepted your site in its program;
make sure you have the campaign ID of your site: if you have several sites registered on Webgains, each site has its own ID.
How do I retrieve my Webgains Campaign ID?
1. Log into your Publisher account on Webgains.
2. Go to Account.

3. Click on Manage my sites/campaigns.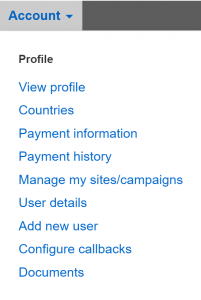 4. Copy your campaign ID which is located to the right of the line dedicated to your site. Reminder: one campaign ID per site!

How to finalize the connection between Webgains and Winamaz?
1. Go to the Winamaz back office plug-in on your site, and open the Affiliation tab.
2. Activate Webgains by clicking on the OFF button to turn it ON
3. Paste your campaign ID and press the Enter key on your keyboard.
4. Then select your advertisers.