From v1.2.9.4, one of the nice new features added is the ability to track clicks on affiliate links.  That means being able to see which links visitors are clicking on your sites.
Once you have set up Google Analytics 4 to connect to your website, it is very simple to add the events to your reporting.
From your WordPress back office, Select the Winamaz Configuration menu and open « Plugin settings » to display the available global parameters :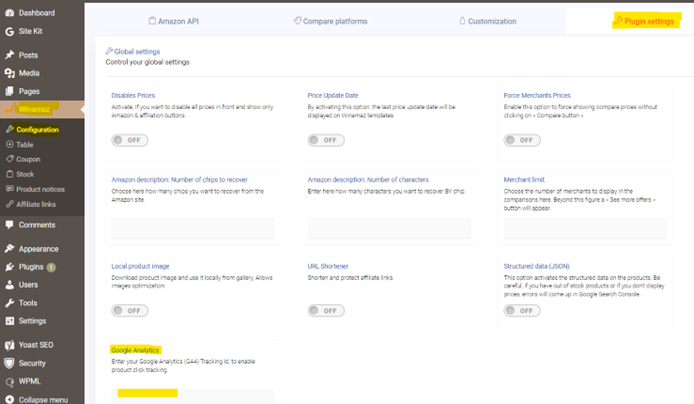 Within the « Google Analytics » parameter, enter your Google Analytics id that starts with « G -» :
Your Id can be found within your  property « Data Streams » in the admin section on Google Analytics
And click the « Save » button to register your changes :

Within Google Analytics, go to the « Reports » menu and open «Engagement » followed by « Events ».  Within the list of events, you should now see « Winamaz Product Click »

For more details, click on the « Winamaz Product Click » event.
The list of product EAN or Asin of the links that have been clicked will be displayed :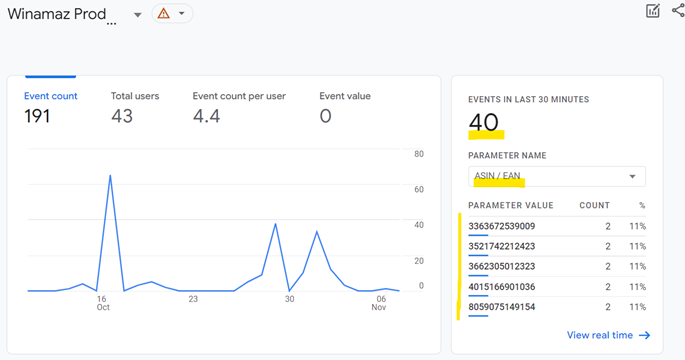 In the field « Parameter Name », you can also choose the option « Product Name » to display the full product names :
Click on « View real time » for further details including as shown below, the pages where the links were clicked :
Please note that the information concerns clicks in real-time (the last 30 minutes activity). For historical data, you will need to develop the required events internally within GA4).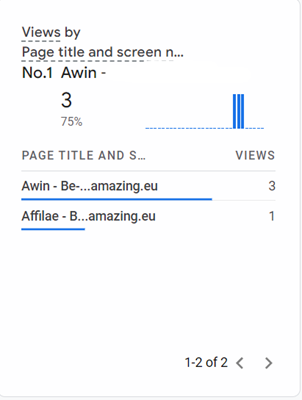 This information enables editors to determine not only which product links are being clicked but from which pages, which helps identify which pages and products are best-performers.
Note that the information relates to clicks and not sales – this information can be found as usual from within your affiliate platform applications.