What is meant by variation in the world of affiliate marketing?
Variations as used by Amazon are the different product options available for sale under a single listing. The products may be somewhat similar to each other, but have different attributes in terms of size, colour, flavour, etc. When it comes to selling products as an Amazon-only or multiplatform Affiliate, generating consumer interest is your top priority. However, each customer has their own preferences such as a favourite colour and/or certain constraints such as shoe size. It is therefore essential for publishers to adapt the presentation of products in order for them to appeal to the profiles of each of their different buyers. Amazon offers advertisers the ability to link a set of similar products that have a number of different attributes. The purpose of its variations is to show consumers how they can personalise the product, compare and contrast related items, and incite upselling. For affiliates, grouping products in a single list promotes easy viewing that in turn increases the conversion rate of the products they are presenting and selling on their web pages. However, it is not always easy to understand how Amazon variations work or how to set them up.
This is where Winamaz comes in…
How to integrate the concept of Amazon "variation" into Winamaz?
By integrating a "Variation" shortcode into its multiplatform price comparison plugin, Winamaz goes a step further to support its publishers. With a single Asin/EAN or keyword, a publisher using Winamaz can present up to 5 variations of an Amazon product via a predefined and customisable template AND if he uses Winamaz multiplatform (FULL), simultaneously display offers from alternative advertisers proposing one or more of the variations to provide maximum choice to site visitors. Thus, content managers empower their customers to effortlessly find what they are looking for and above all to compare different versions of the same product, while promoting additional product options from their online stores.
The icing on the cake?
All this is done with a shortcode that is not only simple but dynamic – which can therefore evolve depending on the variations currently available: [winamaz variation= "lindt"] * :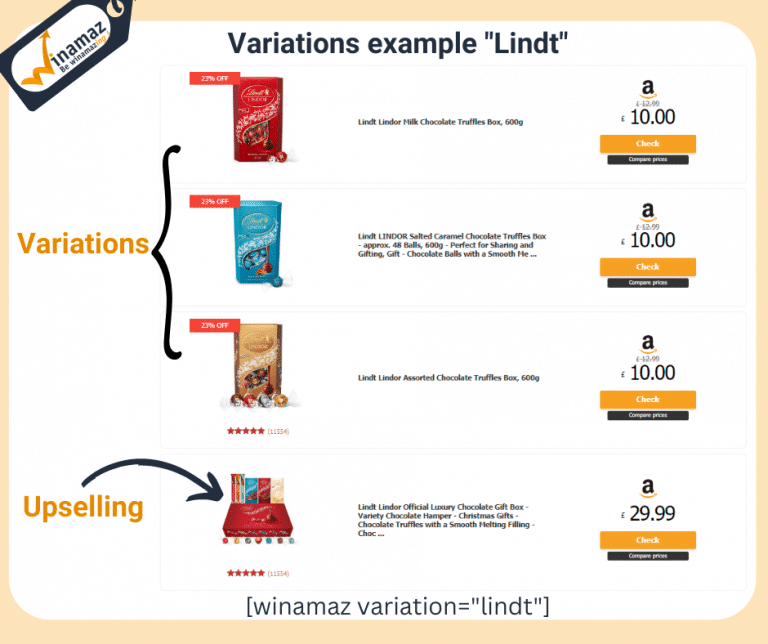 *example from Amazon UK with keyword
How can a publisher use the Winamaz Variation shortcode to boost their commissions?
Thanks to a combination of shortcodes of different types including variations, content managers can create complete and rich articles to attract and retain visitors. No more long and slow searches. A well-placed "variation" shortcode can be used to highlight an article or page that talks about product options. Winamaz enables publishers to benefit from a quick and easy layout to present several "linked" products in attractive product boxes that are designed to attract and hold the attention of each visitor, leaving the competition behind:
The potential buyer immediately finds all the products associated to the original item
They can view both the product variations and their prices on Amazon
They can directly compare the price of the product of their choice on Amazon and other advertisers (FULL version).
The prospect stays on the page in question and clicks directly on your tracked links
Winamaz drives affiliate product sales for the publisher by improving the customer experience – making it richer, simpler and more efficient. In summary, here are the different advantages of the "Variation" shortcode, for both Internet users and for publishers: For visitors – they can immediately see a selection of products with similar attributes without having to search for them separately. This saves them time and they can directly make their choice from the items and advertisers presented depending on the characteristics that interest them (colour, size, etc.)
For publishers – they can increase sales conversion rates by providing succinct and clear choice with little effort.
With Winamaz don't miss any more sales from lack of choice!
If potential consumers see an amazing deal on the latest iPhone but their favourite colour is red and the site in question only shows blue, there's nothing stopping them from looking elsewhere to satisfy their "need for red"!
Presenting variations via the Winamaz plugin is child's play.
By using an Asin/EAN code "B0BDJ9SP5Q" or a keyword "Iphone 14″ in the variation shortcode as shown here – [winamaz variation="iphone 14"] – up to 5 variations of the requested product are immediately presented on the page . In the example, not only the colour but also the number of GB are indicated – which makes it possible to show the price difference between several models and encourage "upselling". In addition, with the multiplatform version of Winamaz (FULL), the products can potentially be compared with other advertisers by clicking on the "compare" button*: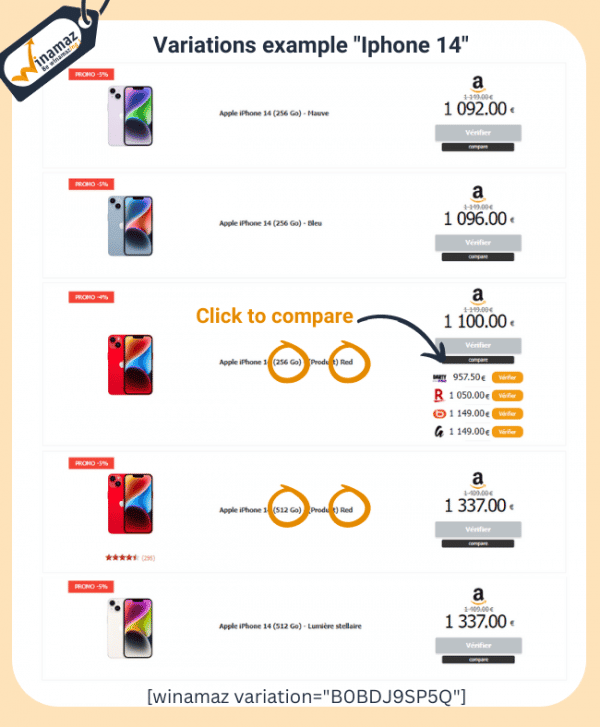 *Example Amazon France with ASIN code This is just a simple example of how the "variation" shortcode can be used. It can be adapted to any niche or item. Results vary depending on the keyword used, so to get a specific result, an EAN/ASIN code is recommended. Plugin users can add additional parameters to tailor the shortcode to their specific needs. Winamaz is a very beneficial asset that categorically helps in SEO optimization strategy. Publishers can of course combine the Variation shortcode with other
Winamaz shortcodes
to present Best Sellers, Newest products, a simple product list and so on.
Get more information on our plugin or send us an email to contact@winamaz.com