New Platforms & Regions added
The Winamaz team works tirelessly to to maximize its impact on your affiliation sites, introducing both new features and an ever-increasing number of advertisers for you to choose from.
In France alone, we are currently connected to 7 affiliation platforms with over 100 Advertisers. With around 40 Advertisers each, Awin and Effiliation remain our two main partners in this region.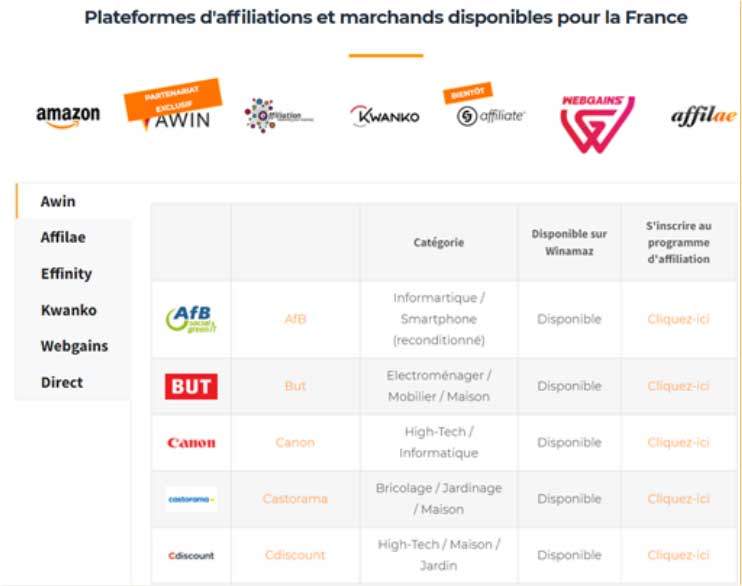 Visit: https://winamaz.com/plateformes-et-marchands-disponibles-sur-winamaz/ to access the ever-evolving list of affiliate platforms and partner advertisers that are available via Winamaz per country, as well as the links to request access to their affiliation programs. Check it regularly for updates!
DON'T SEE ONE OR MORE OF YOUR CHOSEN ADVERTISERS? LET US KNOW THE DETAILS AND WE WILL CONTACT THEM TO REQUEST ACCESS TO THEIR PRODUCT LISTS: EMAIL US AT CONTACT@WINAMAZ.COM
If you are not yet following Winamaz on twitter, Facebook, Instagram or LinkedIn you may have missed our recent announcements on expansion into new regions – one of which is Spain. Winamaz is joining forces with a number of platforms including long-term partner Effiliation, which provided the first 6 Spanish Advertisers now available via Winamaz.