Winamaz's inbuilt shortcodes enable publishers to combine both CPC and CPA marketing strategies to maximise market affiliation revenue.  The multiplatform plugin provides a variety of search and presentation options that guarantee attractive affiliate promotion content that is aligned with your affiliate strategy and can be customised to match the look and feel of your website(s).
What is CPC?
CPC stands for Cost per Click (or Pay per Click) and is an online pricing model where advertisers pay a fee each time a user clicks on one of their ads.  In this model, content managers gain commissions by placing a number of their chosen advertisers' tracked links on their webpages and inciting their visitors to click on them.  The 'Click' is the trigger to earning revenue.
What is CPA?
CPA stands for Cost per Action (or Pay per Action) and is an online pricing model where advertisers pay a commission to content managers whose visitors take a specific action related to the advertiser – for example buying a product from that advertiser.  Publishers earn commissions by placing a number of tracked links on their webpages and inciting their visitors to not only click on them but to purchase the product the link leads them to on the advertiser's webpage. In this model, the trigger to earning commission is a sale.
Which to choose?
Publishers can choose one or more strategies to apply to market affiliation and users of Winamaz can easily implement both options thanks to the platforms and features available within the plugin.
Advertisers' decisions on which marketing strategies they apply will depend on many factors including for example brand awareness.  Should the brand be relatively new and therefore not very well known their focus could be on increasing visibility – in that case CPC would be a logical tool to help achieve that initially.  Whereas, a more well-known brand is likely to be more interested in generating/increasing sales, which lends itself more towards a CPA-based strategy. 
There is also an argument for CPA being a 'safer' option for advertisers as a pay-out is only given when a sale, originating from the publisher, is completed.  In the case of CPC, a simple click ends in a reward and if therefore potentially open to fraud….
Of course, these are examples of factors to be considered and advertisers will likely combine a number promotional channels to reach their ideal strategy. In the same way, publishers need to define their own promotional approach to apply to their market affiliation website(s).
Firstly, content managers will choose their niche(s) and thus define the type(s) of affiliate platforms and advertisers they wish to be affiliated with.  For smaller publishers with specific interests, this may be limited to one or two advertisers (hence the interest of possibly adding CPC to extend their offer in a simple way), whereas larger content managers with any number of sites and guides, will diversify further.  The commission percentages proposed by advertisers and additional conditions of each of their affiliate programs will be taken into account by content managers.
The good news is that by using Winamaz, all types of publishers, big or small, can be present on multiple platforms using both CPC and CPA.
How does Winamaz help?
With access to a number of platforms, Winamaz facilitates the implementation of your chosen market affiliation strategy and enables you to grow and adapt it to your future needs:
Thanks to the easy-to-install all-inclusive plugin, you can decide which platforms you wish to activate- Winamaz provides you access to any combination of the following:
Amazon Affiliate program CPA
Multiplatform CPA including advertisers such as Boulanger, Canon, Cdiscount, Darty, Decathlon, Ekosport, Fnac, I-Run, Lego, Lepape, Orchestra, ManoMano, Maxees, Nike, Polar, Rakuten, Rossignol, Timberland, Under Armour and many more
Kelkoo CPC which enables you to present products from numerous advertisers without being affiliated to each of them
A closer look at the resulting presentation boxes per platform:
Amazon CPA– as an Amazon affiliate, you can access one or more marketplaces and use our range of shortcodes to present attractive, tracked affiliate links and comparison tables
Example of single Amazon product presentation box

Example of Comparison table with Amazon and additional advertisers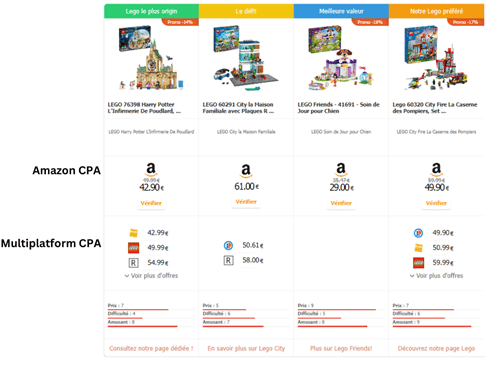 Multiplatform CPA – access any of the 200+ advertisers available via Winamaz that you are affiliated with and present and compare products across advertisers (including/omitting Amazon as required)
Example of simple list presentation box excluding Amazon
Kelkoo CPC – use our latest 'Offers' shortcode to present products available via Kelkoo in the same product presentation boxes as your CPA offers.
Example of Kelkoo search results